Bio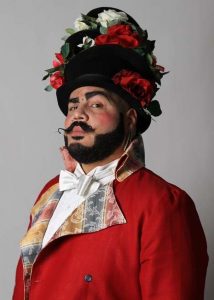 Born in 1978 in Corpus Christi (Texas) to a Portrait Photographer & Nurse Practitioner. As soon as he could hold a reflector he was put to work in his father's studio, weddings and assisting in the dark room. He moved to Boston in 1996 in a failed attempt at a traditional education. By that winter he was working in interior design and custom furniture during the day and night clubs at night.
Today Izzy is the Creative Director for The Aquitaine Group & on the board of directors for the Boston Gay Men's Chorus. From 2015-2-18 he was also the Photo Editor for Take Magazine, New Englands take on art and culture. For the last decade he has been working on a number of series that pose questions about race, society & the human condition.
The latest series AMURKA started in 2014 with the sculptural work of a very talented artist and friend Maxine Blomberg. I knew immediately after looking at the first images of a person in the headpiece it needed to travel and tell the stories of people. Growing up in America, we in the lgbtq community had to alter the media fed to us to make it relatable to our lives. Movies, tv shows, books, religions and cultural norms have told us the stories of men and women getting married, settling down, having children and retiring. These were never meant for us, so why do we try to relate to them. Amurqa is a series of work exploring the lives of people who live in the rainbow & choices they made because or in spite of "the American dream".
Education:
My father is a portrait photographer so I learned much of my foundation from him.
Series:
Childs Play 2009
Nude Emotions 2011-2012
Cleanse 2011-2012
Bang Bang 2014
Gingerly 2013-2016
Amurqa 2014-present
Exhibitions:
Solo Show:
Child's Play 2010
Alternative Art Space Gallery, Boston
Group Show:
Marca X 2018
Villa Victoria Center for the Arts (Boston) & Harvard Ed Portal (Allston)
Honors:
Top 7 finalist in Metro News Paper national photo challenge competition. 2008.
Shortlisted on behalf of Villa Victoria Center for the Arts as a Nominee for Submission to the MASS MoCA Assets for Artists Residency Program. 2017